Adding lighting to the R1150RS..
I asked around on a number of internet forums about mounts available for auxiliary lighting for the R1150RS. Almost unanimously - one name came back - RBR light brackets. It took a bit of web searching, but I found that RBR makes an extensive series of brackets for lots of BMW models.. and if you ask them, they will sell you a bracket via Ebay at about 1/2 of the normal retail price. RBR can be found at: http://www.rbrmanufacturing.com/R1150RS_R1100RS.htm

The RBR kit arrived promptly, and I was impressed with the quality of the construction and finish. It has some of the finest welding I've ever seen holding it together, and a flawless powder-coat finish. It comes with the needed hardware to mount it to the fairing. Mounting it requires drilling two holes in the bottom front lip of the fairing, and then running some screws up to a captive nut plate that goes below the oil cooler and above the fairing lip. Getting the screws started in this captive nut plate is a real PITA.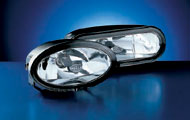 I bought a set of Hella FF50 (Free-form) oval lights from an Ebay auction. These appear on Ebay all the time, and the selling price seems to vary from what I paid (about $35) to over $100. Knowing how to make a "bid-group" in Esnipe and setting the group up with a bunch of the auctions kept the price down for me. These lights are made in Germany, have a glass lens, and H1, 55W bulbs in them. The Ebay seller seems to still be selling these.. http://motors.search.ebay.com/_W0QQsassZ99centsnoreserve
The Hella kit came with an excellent wiring harness and a relay, plus a switch for the lights. It was one of the best kits I've seen. Highly recommended!

The relay can be seen as the blue object.. the fuse for the lights is mounted next to the relay. There is also an in-line fuse on the feed for the relay assembly. Power for the switching coil was obtained from fuse #10 - which was unused, and is a source of switched power (so the lights go off with the ignition.)

I mounted the provided switch (which lights up when the lights are on) in the position on the R1150RS "dash" that BMW used to use for auxiliary device switches (heated grips, etc.) It's just to the right of the GPS in this photo:

The results were: